Due to schedule changes, we will no longer be having a virtual cooking class but I will continue to post recipes and pictures!
Today's class is cancelled. We will be making the butter cake another time.
No daily living cooking class 11/5/2020, I'll see you next week!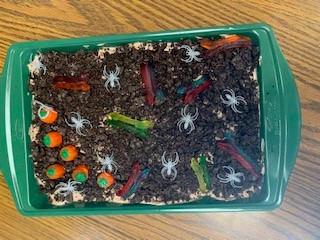 This recipe is perfect for Halloween! I am going to use chocolate pudding instead of vanilla and I'm going to add some SPOOKY candies to the top! Join me in making some SPOOKY dirt pudding.

Our cooking class is cancelled today. I hope you still make this! I certainly will and will be posting pictures! Happy Halloween!
I am back for a Virtual Daily Living Class this week and we're making PIZZA! I will resend the link to all my students and their families!
Caramel Apples

UInfortunately, I am unable to hold our cooking class again! BUT I've chosen and easy and yummy recipe for you this week. I LOVE caramel apples and can't wait to make them! I will be sure to share a video or pictures of mine! I hope to see yours as well!
Make some breakfast for you and your family with this easy bagel recipe. I've made these MANY times and not only are the super easy but they are also super delicious! I'll be posting my video next week!
It's fair time and since we can't have the Fair the year, I'm going to bring the fair to your homes! Here is a quick and delicious way to get some of the fried fair food you're craving! Sorry that we won't be able to have class again this week but I will make sure to put a video up.

Oh no! My videocut off but I did get some pictures of my potato cake making! They were delicious! I hope you enjoyed yours too!
No-Bake Peanut Butter Treats

I will not be having our virtual daily living class on 9/24/2020 but you can still make something with your family! Here is an easy no-bake treat! Send me pictures and let me know how they taste!